Alumna Author – Nikki Gemmell (1984) Dissolve, The Ripping Tree
Nikki Gemmell graduated from Kincoppal in 1984 and is immensely grateful for her inspirational English teacher, Jan Fox, who lit a passion for words within her.
Nikki Gemmell is the best-selling author of thirteen novels and four works of non-fiction. Her books have been translated into 22 languages. She was born in Wollongong, New South Wales and lived in London for many years, but has now returned to Australia.
Nikki has recently published two books;  Dissolve, a non-fiction book part memoir, part meditation and The Ripping Tree, a fictional,  historical thriller.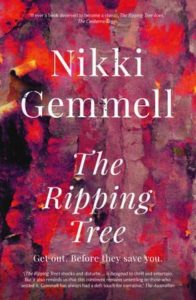 "Dissolve" is an exploration of love, loss and female creativity, and what happens when it all collides. It's the story of a writer finding her voice and struggling to carve out a room of her own; a story of all women finding space for themselves against the 'very important men' in their lives. Dissolve is a conversation with the young women of Gemmell's daughter's generation, with girlfriends, and of course with men. "Every woman on Earth should read it." Caroline Overington, Weekend Australian

 The Ripping Tree is an historical pyschological thriller which brings to mind The Turn of the Screw, Rebecca and the film Get Out as much as it evokes The Secret River. A powerful, gripping tale of survival written in Gemmell's signature lyrical prose, it examines the darkness at the heart of early colonisation. "If ever a book deserved to become a classic, The Ripping Tree does." The Canberra Times.  "An immersive tale of intrigue, friendship and female independence. Think Sofia Coppola's The Beguiled meets Peter Weir's Picnic at Hanging Rock." Sydney Morning Herald